Home &gt Baby Shower Thank You Notes &gt Baby Shower Hostess Thank You
Creative Baby Shower Hostess Thank You Ideas
Finding the perfect baby shower hostess thank you gift can be really tricky ... and when you're heavily pregnant, the last thing you really need is a fruitless trek around your local shops!
To help you get started with some thank you gift ideas, I got out and about, asking girlfriends and colleagues what gifts they would love (or what gifts did they love) when hosting a baby shower.
Here's what everyone told me about the gifts they received that made them feel special (and they ALL said 'it's the thought that counts, not the price tag').
9 Top Ideas for Baby Shower Hostess Thank You Gifts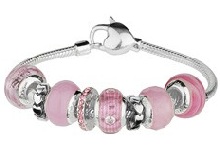 Stunning Murano bead bracelet
Spa treatment or products - Let's face it, women love to be pampered! There are lots of places to buy spa treats ... either in your local stores or at an online store. I love to shop at feelunique.com because they have such a massive range of designer products at brilliant prices!



Annick Goutal Luxury
Candle

Luxury Candles - I love good quality scented candles ... especially at bathtime. My favourites are Annick Goutal Luxury Candles ... they smell divine!


Hampers - Hampers can be filled with all sorts of goodies! Some of the most popular hamper items include fresh fruit and home baked cookies. It's easy to make up a pretty hamper yourself, but if you're short on time, I recommend checking out the fab hampers at SmartGifts.com ... they have so many ideas to choose from!


Gift certificate - If all else fails, or inspiration truly fails to strike, you can always fall back on a trusty gift certificate ... allowing your baby shower hostess to choose her own gift!