Home &gt Thank You Teacher
Thank You Teacher Ideas
Custom Search
"We often take for granted the very things that most deserve our gratitude"
~Cynthia Ozick
A sincere thank you teacher note will give enormous pleasure and will probably be treasured and stowed safely away by your teacher.
A hand written thank you note is a gift of love ... and a simple one to give even if you're on a tight budget!
Teachers play a huge role, helping to grow children and adults into the people they aspire to be.
So what could be nicer than taking a moment to tell your teacher or your child's teacher how much you value his / her work?
There's a collection of teacher appreciation quotes, thank you poems to teachers and quotes on education from famous writers, thinkers and more here.
I hope you will use these pages to create your perfect note, so you can say thank you to your teacher ... just the way you want to.
How to Write a Great Thank You Teacher Note
Think About the Teacher You Want To Thank
What makes him / her so special? What nuggets of information has your child shared about this teacher? How does he / she make school fun for you / your child?
What Impact Has This Teacher Had on You / Your Child?
How has this teacher helped your child this year? Here's a couple of ideas to think about: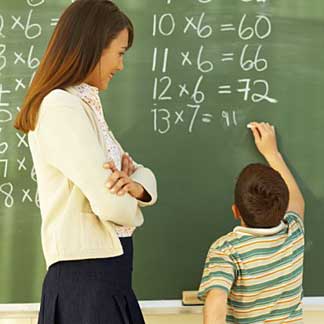 Has she helped him to improve concentration? Or to prepare for and pass an important test?
Maybe she has helped to draw your shy child out of his shell? Or encouraged him to improve pencil skills?
Perhaps this special teacher has inspired a new love of science or literacy, forming a solid foundation for future learning?
What to Include in the Thank You Note
Here's a simple structure to help you write a good thank you teacher note:
Open with a general thank you.
Mention something(s) that you are particularly grateful for
Close with a further thank you and share good wishes.
Here's a Teacher Thank You Note Example:
Dear Mrs Best,
Thank you so much for being an inspirational teacher. I'm sure you will remember how much Davey struggled with concentration when he moved into your class.
It was a relief to know that this was a normal development stage for boys.
I appreciate how you found lots of fun ways to help Davey improve his concentration. Thank you for suggesting that we consider Omega 3 supplements, which do seem to have had an effect.
With best wishing for a wonderful Christmas.
Jennie Ellis
I hope you find this structure easy to use and to adapt when you want to write your own thank you notes.
Related Teacher Appreciation Articles
Thank You Teacher
Free thank you teacher ideas. A thank you note for a teacher is quick and easy to write but gives enormous pleasure. Find teacher appreciation quotes, poems and more ...


Thank You Poems to Teachers
Need to find thank you poems to teachers to express appreciation? Find thoughtful teacher appreciation poems here and send memorable thank you notes to the teachers in your life ...


Teacher Appreciation Quotes
Collected teacher appreciation quotes and sayings. Show appreciation to your favourite teacher for everything that they do ...


Quotes on Education
Education quotes from famous writers, thinkers and more ...


Teacher Quotes about Gratitude
Collected teacher quotes about gratitude. Thoughtful thank you note wording for teachers....


Teacher Appreciation Week
Prepare for Teacher Appreciation Week with free thank you poems to teachers and teacher thank you gift ideas.


Teacher Appreciation Ideas
Masses of Teacher Appreciation Ideas for Teacher Appreciation Week and teacher thank yous at any other time of year!