Home &gt Christmas Thank You Notes
Christmas Thank You Notes
Sending Christmas Thank You Notes is such a lovely tradition ... one which my Mum was a real stickler about! I think sending personalised thank you notes is a really lovely part of Christmas.
I have vivid memories of sitting at the kitchen table with my brothers, half-chewed pencils at the ready as we considered what to write (and how to get the chore over with quickly too!)
It would have made my life ... and Mum's too ... so much easier and so much more fun if we'd had some interesting thank you note examples or templates to fire our creativity.
And Christmas offers so many opportunities to say 'thank you' ... for everything from thoughtful gifts, fun parties, indulgent Christmas lunches and much appeciated money!
Christmas Thank You Ideas On This Page
So, to help you enjoy creating your own Christmas Thank You Notes, here's my collection of Christmas thank you note examples ... all of which are free for you to copy and use.
I hope your friends and family will be delighted with the thoughtful, individual Christmas thank you notes you create!
I've included a selection of thank you notes suitable for children to use, or for you to send on their behalf, as well as ones more appropriate for adults.
And I hope you enjoy the new pages with simple, inexpensive ideas for home-made thank you cards and suggestions for Christmas thank you gifts too!
Happy Christmas and happy browsing!
Example Christmas Gift Thank You Notes
Dear Aunty Sue,
Thank you for the wonderful selection of home-made choccies and fudges. We have tried some already and they are simply delicious! You know how much I love vanilla fudge and the children are thoroughly enjoying the chocolates.
Thanks once again for your thoughtful gift.
Love ...
---
Dear Tommy and Linda,
Thank you so much for the fabulous bottle of dessert wine. We enjoyed it very much on Boxing Day! It was very thoughtful of you to hunt down to exact wine you know that I love.
Wishing you a very happy and prosperous New Year.
Love ...
Example Christmas Hamper Thank You Note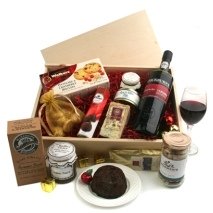 Fabulous festive Christmas table
Dear Denise and Mikey,
What a wonderful surprise it was when our Christmas hamper arrived this morning! You are so kind. It is packed with lots of our favourite goodies and we are really looking forward to treating ourselves. We will be having a Champagne breakfast on Christmas morning!
Thank you again for treating us this Christmas.
Love,
---
Dear Edward,
Your fabulous hamper arrived this morning! Thank you so much for recognising the team with such a wonderful selection of goodies that we can all enjoy.
Thanks once again for your thoughtfulness.
With kindest regards,
Example Christmas Money Thank You Note
Dear Lisa and Evan,
Thank you so much for the money you sent for Jenna's Christmas gift. As she is having her first bicycle this year, we have used some of the money to buy her safety helmet and stabilisers, with the rest going into her savings account. Jenna will be writing to thank you personally after Christmas.
Thanks once again for your generosity.
Wishing you a very Merry Christmas and a Happy New Year!
Love,
Example Christmas Meal Thank You Note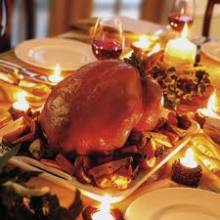 Fabulous festive Christmas table
Christmas is such a special occasion.
I think there is simply nothing nicer than being asked to share a Christmas meal with family or friends.
Because this is such a special time, when your host or hostess will have put masses of effort into creating a fabuous meal and decorating their home beautifully, I've created a new page full of ways to say thank you for Christmas dinner.
You can also read contributions from visitors to this site, sharing their own successful thank you ideas for the festive season.
Example Christmas Party Thank You Note
Christmas parties take lots of time and effort to plan, so it's important to send a timely thank you note to your host / hostess after the event. Here's a simple thank you note example for you to personalise:
Dear Meg and Jerry,
Thank you so much for inviting us to join you at home on Boxing Day.
It was a wonderful party which we enjoyed very much, especially that fabulous white chocolate and raspberry gateau!
Thanks again for your hospitality,
With regards
More Christmas Thank You Articles and Wording Ideas
Easy Christmas Thank You Cards To Make
Learn just how easy it is to create impressive DIY Christmas Thank You Cards
Christmas Thank You Poems
Poetic ideas to inspire you to say a different thank you this Christmas!
Christmas Dinner Thank You
Free thank you note examples to copy today, so you can thank your Christmas host or hostess for their hospitality.
Christmas Thank You Gift Ideas
Looking for Christmas Thank You Gift Ideas? Thank You Gift Baskets and more Thank You Gifts for Christmas ...
How To Say Thank You - Tips for Christmas
Simple tips on How To Say Thank You to help you create and send great thank you notes ... especially at Christmas
Ideas for Funny Thank You Christmas Cards and Notes
You'll love these funny thank you verses at Christmas. Inject fun into your Christmas thank you cards with 12 days of Christmas thank yous
Go Back From Christmas Thank You Notes To Thank You Note Examples Home Page