Home Page &gt Christmas Thank You Notes &gt Christmas Dinner Thank You
Christmas Dinner Thank You Notes and Ideas
Lucky you! Someone cares enough about you to invite you to join them for Christmas Dinner!
The nicest way to repay this kindness is with a timely Christmas Dinner thank you note ... and possibly a small gift as a token of your appreciation.
After all, there's no doubt that your host(ess) will dedicate lots of time and energy to making sure you have a wonderful time, with a beautifully decorated home and a table laden with good things to eat and drink.
So, even if you've never sent a thank you note before ... or you're on your annual pilgrimmage to the in-laws (and your mother-in-law is not the best cook in the world), sending a thoughtful Christmas dinner thank you will make you feel good ... and it will make your host feel appreciated and loved. A real Win / Win situation!
Timing your thank you note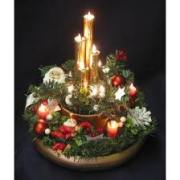 Christmas Dinner deserves
a special thank you
The sooner, the better! I might be a bit old-fashioned, but I was taught to send out dinner thank you notes the morning after the event, for 3 reasons:
Plain good manners!


There's a fighting chance you will be able to remember what you had to eat!


You will probably forget to send the note, if you put it off...
TIP: Make sure you have a supply of stamps, some quality notecards or paper and a good quality pen ... you'll be all set for getting your thank you notes out quickly!
What to include in your thank you note
An appropriate greeting, for example, Dear Jane / Dearest Gran / Dear Mr. and Mrs. Evans
An opening expression of thanks
A complement and comment about your enjoyment of the occasion
Closing thanks
An appropriate salutation and name; for example, Lots of love from / Kindest regards
Thank You Note Example
Dear Louise and Freddie
Thank you so much for inviting us to join your family for dinner on Christmas Day.
It was lovely to sit and eat your excellent meal in such great company, surrounded by your beautiful festive decorations. It must have taken you weeks to prepare!
Thanks once again, we truly had a wonderful time!
Yours ...