Home &gt Thank You Boss &gt Thank You For The Bonus
How To Say Thank You For The Bonus
Want to say Thank You For The Bonus? Maybe you're not even sure whether it's enough to simply say thank you, or whether you actually need to write a note to express your gratitude?
Sending a thank you note when you've been lucky enough to receive a bonus (lots of people don't get one!) is simple good manners ... and it will have a fantastic effect on your boss!
Most people love to be appreciated and bosses are no different, so why not make your boss happy next time you receive a bonus, and drop them a quick thank you note to show your gratitude?
Quick Tip: The best time to send your thank you note is immediately! Every day you delay, you take something away from the meaning ... so it's time to roll up your sleeves and get writing!
I hope the thank you note examples below will inspire you to create a professional, pleasant and sincere thank you note that will both delight and impress your boss.
Sample Thank You Note For The Bonus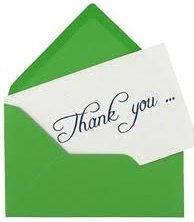 Dear Kathryn
Please accept my thanks you for the surprise we received today, when you announced a special Christmas bonus is to be paid to everyone.
While completely unexpected, I'm delighted to accept the bonus and I wanted to thank you personally for approving this generous gift.
I really appreciate your spirit of giving.
Best Regards,
x x x
Dear Mr Everett
I would like to thank you for the performance bonus. It was very generous, and very welcome.
I simply wanted to let you know how much I appreciate having my hard work last year formally recognised in this way.
Once again, sincere thanks.
More Articles and Thank You Boss Wording Ideas
Sample thank you letters for promotion.
How to write a thank you letter for promotion. Free sample thank you letters for you to use after a promotion.
Sample thank you for the bonus letters.
A note to say thank you for the bonus is always appreciated. Sample thank you note wording to use to express your gratitude whenever you receive a bonus.
Thank you boss.
A note to say thank you boss is often overlooked but always appreciated. Here's how to send a professional, pleasant and sincere thank you note to your boss, whatever the occasion.
16 Reasons to Send a Workplace Thank You