Home Page &gt Christmas Thank You Notes &gt Christmas Thank You Cards
Christmas Thank You Cards
Christmas Thank You Cards are an essential part of the festive season ... but there's no reason for them to be dull or expensive!
With just a little bit of planning and imagination, making thank you cards to surprise and delight your friends and family is easy, fun and cheap!
One of the benefits of hand made thank you cards is that you can add your own wording ... or include a Christmas thank you poem to create a thoughtful alternative to a traditional thank you note.
If time is not on your side ... or you're simply not the 'creative type' Planet Cards and Cardstore.com
are my favourite places to find stylish, well-priced thank you cards.
Why Not Try Making Christmas Thank You Cards This Year?
Hand made paper is a luxury that people love to receive, but few of us go out to buy, because it can be so expensive.
Did you know it's easy to make your own? I love to use hand made paper to make beautiful thank you cards ... it always goes down a treat! Here's how to get started:
Here's what you will need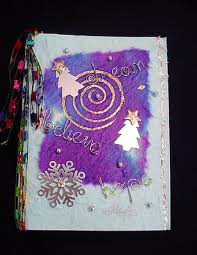 5-6 A4 sheets of scrap paper, with any writing cut out and discarded
5-6 cotton wool balls, teased apart
Food colouring
1 tablespoon measure of PVA glue
1 metal spoon for mixing
1 old metal clothes hanger
1 old pair of tights (hose)
2 elastic bands
1 Mixing bowl
1 pair protective gloves (household rubber gloves)
1 old newspaper
1 large tray
1 old plastic bag
Rolling pin
Here's how to create your hand made paper
Here I recycled old bank statements
and utility bills.
To get the colour, I used
blue food colouring and I added
in some glitter for sparkles!
Step 1. Cut or tear the paper up into small pieces, filling up the mixing bowl. Add the cotton wool.
Step 2. Add enough water to completely cover the paper, then add the PVA glue and few drops of food colouring.
Step 3. Stir well, cover and leave for at least 24 hours.
Step 4. Create your 'frame':

Pull the bottom of the wire coathanger down, until a square shape is achieved,

Ease the tights over the wire frame, securing both top and bottom with an elastic band and ensuring that the surface of the tights is taut,
Step 5. Place a thick wad of newspaper into your tray and lie your 'frame' on top of the paper.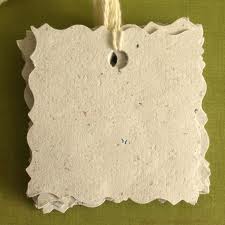 Here I used a mixture of papers
plus cotton wool and I used
red food colouring, with a
generous measure of beetroot juice!
Step 6. Wearing your protective gloves, test the consistency of your paper mixture ... it should feel like wet porridge and no longer resemble paper! Give it a good stir, adding extra water if required.
Step 7. Spread the mixture out across over the frame. Lay a plastic bag over the mixture and use your rolling pin to flatten the mixture, squeezing out excess water.
Step 8. Drain off excess fluid, discard the soaked newspaper, then leave somewhere safe to dry for 2-3 days.
Hey Presto! One beautiful sheet of hand made paper to decorate and write a personalised thank you note on.
Turning Your Paper Into Christmas Thank You Cards
I've been getting ready for Christmas , experimenting with some of the pretty papers I've made.
Here are some of my ideas: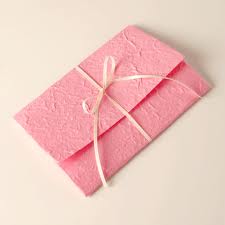 Consider hand made paper
envelopes for your
Christmas Thank You Cards.

Cut the paper into the shape of parcels and Christmas ornaments, add pretty ribbon ties and write your Christmas Thank You greetings in shiny gold pen.
Select one sheet of paper and one smaller sheet of tissue or vellum. Carefully write your thank you note on the tissue / vellum, then fix the tow sheets together with a dot of PVA glue. Embellish with a beautifully tied bow.
Carefully fold your sheet of hand made paper to form an envelope for your thank you note. Tie the envelope with a generous length of narrow ribbon.
Now all you need is your thank you wording ... to accompany your notes and Christmas thank you gifts!