Home &gt Christmas Thank You Notes &gt Christmas Thank You Gift Ideas
Christmas Thank You Gift Ideas
Feeling pressure to find Christmas Thank You Gift Ideas for your family, friends and business contacts?
So you know who you need to buy a Christmas gift for, to show appreciation. Your big challenge now is to decide what to buy, where to shop for your gifts and how on earth to find the time for shopping in your busy schedule!
Traipsing round busy shops hunting for inspiration for fresh gift ideas is hardly anyone's idea of fun ... luckily there is another solution.
Easy Christmas Thank You Gift Ideas
Here are some inexpensive ideas for Christmas thank you gifts, all chosen to impress but not break the bank!
It doesn't matter whether you're buying a gift for a close relative, your best friend, a close colleague or the teen who walks your dog ... I hope you'll find inspiration here for perfect Christmas thank you gifts.
Gift Baskets: A Perfect Christmas Thank You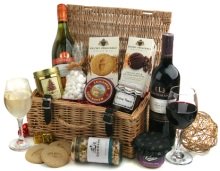 Fabulous Christmas Gift Baskets
Gift baskets always please!
If you're planning to make up your own gift basket, do think about including home made goodies or bargains from local markets or car boot sales that you know your recipient will adore.
If you prefer to buy your gift basket, I recommend Smart Gift Solutions and The Gift Experience because you can make up your own thank you gift basket or choose from a selection. Great news is they deliver internationally!
Personalised Baubles: Low Cost - Maximum Effect!
Christmas decorations are so beautiful today. Personalised Christmas Baubles make the perfect gift ... one that will be hung on the tree this year and for many more Christmases in the future.
A Personalised Santa Sack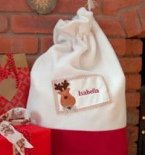 Personalised Santa Sack
Kids big and small enjoy Santa sacks piled high with Christmas goodies, so why not treat someone special with a personalised Santa Sack?
If you're good at crafting, you have a great opportunity to create an heirloom gift ... but if time's not on your side or you simply prefer to shop for your gift, I love this luxury Christmas Sack, which can be personalised.