Home &gtBaby Shower Thank You Notes &gt Baby Shower Thank You Gifts
Baby Shower Thank You Gifts
Here are some ideas for baby shower thank you gifts that are highly appreciated, but inexpensive.
I'm sure you'll want to express your appreciation to everyone who comes to your baby shower to wish you well with your new baby
I'm equally sure you probably won't want to spend a fortune on gifts when you're about the have a baby!
Baby Shower Guests Thank You Gifts
If you're not careful, costs can spiral fast when you're planning a baby shower.
One neat way to control costs is to pick out small gift items from your local pound (or dollar) store!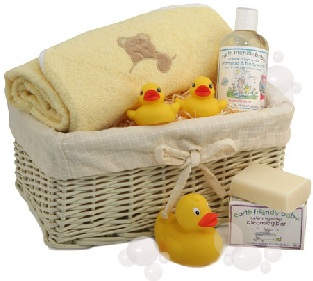 Find more baby shower gift ideas
like this right here
Some of the most popular gift ideas are beauty products such as hand lotions and kitchen products such as pretty pot holders or funky salt and pepper shakers.
It's also nice (and inexpensive) to indulge everyone with little jars filled with sweeties (candies), trimmed with a pretty ribbon bow.
I think it's a lovely touch to wrap all of your little thank you gifts in pretty tissue paper, then lay them out on a table ready for your guests to pick out a wrapped gift each from the table on their way out. And, of course, each little gift should have a handwritten thank you gift tag attached to it!
You can find lots of baby shower thank you sayings to inspire your notes here.
A Little More To Spend?
Of course, if you're not on a budget, you can be very creative with your gifts, and if you're short of time, I recommend you take a look at the fabulous range of baby shower gifts over at Smart Gift Solutions - you'll see that they really do have something for everyone.