Home &gt Wedding Thank You &gt Cheap Bridesmaid Gifts
Ideas for Cheap Bridesmaid Gifts
Choosing cheap bridesmaid gifts to show gratitude to your attendants is a great way to avoid pre-wedding stress and to make sure you don't blow your wedding budget!
Of course, some brides have huge wedding budgets, but while it's traditional to buy a token gift for bridesmaids, it's acceptable for the gift to be more of a keepsake than an extravagance!
Here are some tips for making or buying cheap, attractive gifts that will be perfect for saying thank you to your bridesmaids, whatever their ages.
Cheap Bridesmaid Jewelry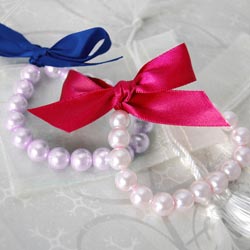 A dainty piece of jewelry makes a lovely keepsake and jewelry has always been of the most popular bridesmaid gifts. You can even give your bridesmaids their gifts before the ceremony, so that they can wear them on your wedding day.
Jewelry works equally well for adult and junior bridesmaids!
I found some pretty ideas for cheap bridesmaid jewelry here at Beaucoup, including the gorgeous little pearl and ribbon bracelets pictured here.
Dinner
A girl's night out with your bridesmaids can be a real stress buster! Consider treating your bridesmaids to dinner (or just buy the desserts if your budget is really tight) as your cheap bridesmaid gifts. You'll all have a lovely evening to remember ... don't forget to take your camera!
Edible gifts
Most girls love chocolates and cookies. Homemade treats beautifully wrapped in cellophane make a lovely, inexpensive gift that is very personal.
Personalised gifts
Who doesn't love a handmade gift? They always make me feel special!
One of the nicest inexpensive bridesmaid gifts I ever received was a beautifully framed photo collage with 5 pictures of me and the bride from our earliest years together!
I found some very pretty, inexpensive photo frames in local charity shops.
Don't Forget The Thank You Notes!
Apart from giving the wedding gifts, you also need to send wedding gift thank you notes to all the guests for the gifts they got for you.
You'll find helpful tips about wedding gift thank you notes here and lots of examples of wedding thank you wording here ... all free and ready for you to copy and personalise today.