Home &gt Bereavement Thank You Notes &gt Funeral Thank You Notes
Funeral Thank You Notes
Funeral thank you notes can be a real challenge to write, given the emotional stress most people are under when a loved one dies, but many people find the simple act of writing letters of appreciation to be a helpful step in the healing process.
Included here are some tips to help you write your thank you notes plus a selection of examples for inspiration.
Funeral Thank You Etiquette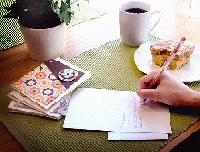 Thank you notes do not have to be hand-written and the people who attend your loved-ones funeral will not expect a lengthy hand-written note.
Professional funeral directors will usually offer simple cards with appropriate, but bland words of gratitude on them. As part of their service, most funeral directors will offer to collect the cards from all the wreaths and bouquets, for you to respond to later. They will also collect donations for you, and record who they are from.
To personalise your notes of gratitude, I recommend you consider hand-writing a simple message of appreciation, for example "Many thanks for your support in our time of grief".
If you prefer to choose from a wider range of thank you cards, suitable for a funeral, here are some ideas:
Who Should You Send Notes of Appreciation To?
As you struggle to deal with your grief, it can be difficult to remember everyone you want to show your gratitude to. The following people should be on your list to receive funeral thank you notes:
People who have sent flowers, donations, financial assistance, cards or gifts
The person who officiated at the funeral service
Loved ones who helped you with the arrangements for the funeral service
People who attended the funeral service to pay their respects
Unsure What To Write in More Personalised Notes?
You'll want to thank people for their help, time and support during your time of grief.
If someone has given you money, you'll need to express your gratitude in your funeral thank you note. You shouldn't mention the amount of money but should say how the financial gift has ben or will be used.
Sample Funeral Thank You Notes
Dear Dr Beddows
Thank you so much for coming to help the family to say our last goodbyes to Peter. It meant a great deal to us all to have you there.
Peter respected you so much and it would have meant a lot to him, knowing that you were able to help him have 'a right good send-off'.
Thank you again
x x x
Dear Jack and Barbara

Thank you so much for your generous contribution, which we have put towards funeral expenses. Your gift has really helped us cope at this difficult time and made our situation easier to bear.

Once again, sincere thanks
x x x
Dear Mr and Mrs Ellison

Thank you for the beautiful arrangement of lilies and agapanthus which made the chapel look so wonderful for Gran's funeral service. How kind of you to show how much you loved Gran with such a stunning tribute.

Once again, many thanks
Tip: It's very thoughtful to mention the names of the flowers in a floral tribute in your thank you note (if you know their names). It shows that you took a moment to really notice and appreciate the flowers.

You'll find more ideas to help you say thank you for funeral flowers here.
More Sympathy Thank You Wording Ideas and Related Articles
Bereavement Thank You Notes
Writing bereavement thank you notes can be a very painful chore, but is is important to express your gratitude to everyone who has supported you while you are grieving..
Bereavement Thank You Note
Need to write a bereavement thank you note? Free thank you note examples to copy and use to express your thanks after a bereavement.
Say Thank You For Funeral Flowers
How to Write a Thank You for Funeral Flowers. Learn how to show gratitude for funeral flowers received with these thank you ideas.
Thank You Boss
A note to say thank you boss is often overlooked. Here's how to send a professional, pleasant and sincere thank you to your boss, whatever the occasion.
Free Thank You Letter Samples
Free thank you letter samples and wording ideas to use after bereavement. Say thank you to a choir or choir master, a vicar / rector or priest, or someone who has been a shoulder to cry on.
Funeral Thank You Notes
Need to write funeral thank you notes? Free thank you note examples to copy and use to express your thanks after a funeral.