Home Page &gt Quotes To Say Thank You &gt Wedding Thank You Quotes
Wedding Thank You Quotes
Including handwritten Wedding Thank You Quotes in your wedding thank you notes is a lovely way to show your guests how much you appreciated their gift and / or their company at your wedding.
Popular romantic verses and wedding quotes.
And I can think of nothing in life
That I could more wisely do,
Than know a friend,
And be a friend,
And love a friend... like you.
Author unknown
And the song, from beginning to end,
I found again in the heart of a friend.
Henry Wadsworth Longfellow
A successful marriage requires falling in love many times, always with the same person.
Germaine Greer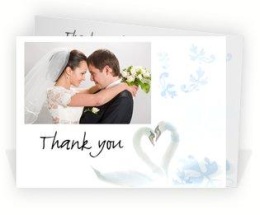 Find beautiful wedding
thank you cards here
Beauty and love are all my dream;
They change not with the changing day;
Love stays forever like a stream
That flows but never flows away...
Andrew Young
But friendship is precious. Not only in the shade, but in the-wedding sunshine of life.
Thomas Jefferson
How do I love thee? Let me count the ways.
I love thee to the depth and breadth and height
My soul can reach, when feeling out of sight
For the ends of Being and ideal Grace.
I love thee to the level of everyday's
Most quiet need, by sun and candle-light.
I love thee freely, as men strive for Right;
I love thee purely, as they turn from Praise.
I love thee with the passion put to use
In my old griefs, and with my childhood's faith.
I love thee with a love I seemed to lose
With my lost saints, I love thee with the breath,
Smiles, tears, of all my life! And, if God choose,
I shall but love thee better after death.
Elizabeth Barrett Browning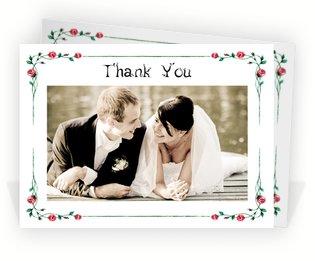 Find more beautiful wedding
thank you cards here
I awoke this morning with devout thanksgiving for my friends, the old and the new.
Ralph Waldo Emerson
I have a garden of my own
Shining with flowers of every hue.
I loved it dearly while alone
But I shall love it more with you.
Thomas Moore
In the sweetness of friendship let there be laughter, and sharing in pleasures.
For in the dew of little things the heart finds its morning and is refreshed.
Kahlil Gibran
Love one another, but make it not a bond of love;
let it rather be a moving sea between the shores of your souls.
Kahlil Gibran
Love is a deep well from which you may drink often, but into which you fall but once.
Ellye Glover
Love is like wildflowers. It is often found in the most unlikely places.
Author unknown
Much more grows in the garden than that which is planted there.
Japanese proverb
There are in the end three things that last: faith, hope, and love, and the greatest of these is love.
1 Corinthians 13:13
There is no limit to love's forbearance, to its trust, its hope, its power to endure.
1 Corinthians 13:7
We cannot do great things; only small things with great love.
Mother Teresa
We come to love not by finding the perfect person, but by learning to see an imperfect person perfectly.
Sam Keen
I hope you enjoy reading these wedding thank you quotes. If I have missed your favourite, please do contact me and I will be glad to add it to this page.
Why not take a peek now at all of the ways to say a great wedding thank you?
Related Articles
Famous Thank You Quotes
Famous Thank You Quotes old and new | Take inspiration from famous quotes in your thank you notes to make your thank yous special ...
Quotes on Gratitude
Quotes on gratitude to help you writing stunning thank you notes. Use gratitude quotes to say thank you and spread a little happiness today ...
More Gratitude Quotes
More quotes of gratitude to inspire your thank you notes. Personalise your notes of gratitude with these well-loved quotes ...
Quotes To Say Thank You
Express your thanks with quotes to say thank you. Famous quotes, thankful quotes and quotes to say thank you god for everything ...
Thankful Quotes
Discover the power of thankful quotes and thank you sayings. Learn how to use thank you quotes to express how thankful and grateful you are.
Thank You God
Find creative ways to Say Thank You God For Everything with meaningful thank you God quotes
Thank You Quotes
Quotes on gratitude to help you writing stunning thank you notes. Use gratitude quotes to say thank you and spread a little happiness today ...
Quotes on Education
Quotes on education. Education quotes from famous writers, thinkers and more ...
Wedding Thank You Quotes
Wedding Thank You Quotes old and new. Add wedding quotes to your thank you notes for a different take on traditional wedding thank yous.