Home &gt Baby Shower Thank You Notes &gt Baby Shower Thank You Poems

Baby Shower Thank You Poems
Adding baby shower thank you poems to your thank you notes is sure to make you feel good ...
... and it's bound to make your family and friends feel loved!
When you take time out to select and handwrite a thank you poem, you're not just saying thank you, you're showing people just how much every gift you've received is appreciated.
So, here are some original thank you poems I have created, which you are free to copy and use in your baby shower thank you cards.
Baby Shower Thank You Poems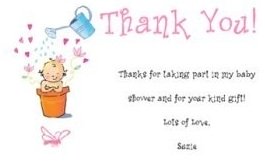 Planet Cards has a fantastic range
of baby shower cards ... perfect for
adding a thank you poem to.
Your kindness and your thoughtful gift
Have made me stop and see
That what I value is the lift
Your friendship gives to me.
x x x
How kind of you to plan a day
So full of love and care
I scarcely know the words to say
How much I need you there.
As good friends go, there are none better
My thanks again, in this small letter!
x x x
Thanks for being so kind to Mum
While I was cosy in her tum,
Her special day was brilliant too
With lovely gifts from friends so true.
So, as I grow more every hour
Here's my big 'Thanks' for Mummy's shower!
Thank You For The Diaper (Nappy) Cake
Thank you for the diaper (nappy) cake
T'was such a nice surprise!
I never knew that you could make
A gift from such supplies!
It was the highlight of the day
and very much admired,
it just remains for me to say
more thanks ... and 'Boy, I'm tired.'
More Baby Shower Poems
This poem about childhood (of unknown origin) isn't a traditional thank you poem ... but I think it has beautiful words that would be a perfect way to say a big 'thank you' to people who have helped and guided you through your life.
What a lovely way to say thank you to your parents as you prepare to welcome your own child into the world!
If A Child

If a child lives with criticism, he learns to condemn.
If a child lives with hostility, he learns to fight.
If a child lives with ridicule, he learns to be shy.
If a child lives with shame, he learns to feel guilty.
If a child lives with tolerance, he learns to be patient.
If a child lives with encouragement, he learns confidence.
If a child lives with praise, he learns to appreciate.
If a child lives with fairness, he learns justice.
If a child lives with security, he learns to have faith.
If a child lives with approval, he learns to like himself.
If a child lives with acceptance and friendship, he learns to find love in the world.

Thank you for helping me to be the best that I can be and to find love in this world!